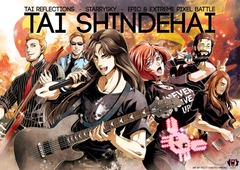 Today I explain about SHINDEHAI's new poster by Mamoru Yokota !!!!!

(V)・∀・(V)・∀・(V)・∀・(V)・∀・(V)・∀・(V)・∀・(V)・∀・(V)・∀・(V)



■Who is Mamoru Yokota ?



Mamoru Yokota ---Wikipedia (En)

Mamoru Yokota is an illustrator/character designer/animator. Sometime he does also direction of animation as an Animation director. Anyway he is working at drawing characters on anime. (Animation director is position that checks if the animation and the illustration of characters are correct and appropriate. This is not "supervisor") So he can draw people in "anime like" way, no matter what pose they strike. In addition he draws very quickly. Because professional animators are demanded speed always !
He goes often abroad to appear Otaku conventions like Japan Expo as an official guest and does live drawing on stage, write signature at official stand.




■How did we meet ?



Mamoru Yokota was coming to Japan Expo Sud 2017 in Marseilles as an official guest. I was also there to participate as a member of Voxmakers.
At the second day, I heard Japanese language at "purple room". (Purple room is the space where guest and partners of Japan Expo can enter and eat lunch) So I tried to talk to him (of course in Japanese).

K (Kanipan.) : Hello ! Are you from Japan !?
M (Mamoru) : Yes
K : For stage ?
M : Hmm, yes for stage also, but usually draw and signature at stand
K : Oh, you're Mamoru Yokota !! I saw your illustration that you draw yesterday at backstage of YUZU today's morning ! I came here because of collaboration on Youtube.
M : Really ! I'm interested in conventions in France.
K : Voxmakers know about it very well and they participate many conventions almost every month.
M : Let's do something together if we have a chance.
K : Of course !


But I didn't know about poster at this time.




■How did we make the poster ?



Several days later from Japan Expo Sud SHINDEHAI talked me about the poster. He needed illustrator who can draw "Cool, Perspective, anime like illustration" "speedy" !! There was left no long time to draw. So I wrote notice for offer on twitter. There are some Japanese illustrators in my followers. Of course I didn't know if they were interested in this work. They might not know SHINDEHAI and the term (time to work and the fee) might be severe for them. So I was not sure that I was able to find some illustrator actually.

But Mamoru Yokota talked to me and he wanted to know the precise term and design of the poster that he would draw. I was surprised. Because I thought he was not interested in this work. HE IS A PROFESSIONAL ANIMATOR !! He sometimes draws poster but it's a work about really "commercial" anime, you know. Actually SHINDEHAI's poster is not business but like Dojin work. But Mamoru Yokota was interested in this because Voxmakers participate a lot of conventions and sell many posters and SHINDEHAI is famous "Youtuber musician" in France. So I think Mamoru Yokota felt some possibility here.

2 days later SHINDEHAI and Cyrix, Mamoru Yokota and his translator (Japanese/French) had discussion on Skype voice chat. At this time Mamoru Yokota said that the translator knew me and I SHOULD know him. I was not able to suggest who he is. But actually I had known him !
In 2015 we got to know. Just 2 years ago, March 2015, I tweeted about going France to appear Japan Expo 2015, then he replied me that he would go and work as a translator. He makes "fan sub" videos of JDG in Japanese to upload on Nico and spread JDG. So we talked "let's see at convention if we have the time" on twitter and Skype. But actually we could not see in 2015. He got to know Mamoru Yokota at other convention and we made a "line" ! I got to know the translator in 2015, Mamoru Yokota this year. Mamoru Yokota and the translator had gotten to know in this 2~3 years each other. This is definitely by chance !! In addition, we the translator and me could not see each other 2015, but he watched almost Voxmakers videos since we talked on internet in 2015 !!! This was really good. The best occasion as far as we think. Because at this discussion the translator was the position that should explain about SHINDEHAI's works on Voxmakers not only translate. Please imagine the case the translator was not him. The discussion would be even more complicated. The translator had known and understood about the concept of "Tai Reflections". I think the discussion was favorable !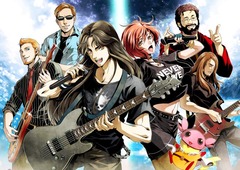 Then he began to draw and sent, and changed little by little to match to SHINDEHAI's demand. There are 6 people except me on this poster. So I proposed that I am drawn as a crab as Regalia did. (By the way this crab is the main body. The pink haired girl is just "Stand". I don't know if you know "Stand" from "JoJo's Bizarre Adventure" though. Actually I have never read JoJo entirely)

We really hope everyone will like this poster !! You can buy this at "POLYMANGA" at fastest and other convention following it. Please don't miss it !! ^^